In the fashion world, fabric selection is absolutely critical. Whether you're a designer crafting the next big clothing line or a consumer seeking the right fit, it's essential to understand the key differences between popular materials. Today, you're going to get to know the intricacies of two very unique fabrics: Hemp and Linen. In "Hemp Fabric Vs Linen: Pros And Cons", you're about to journey through an insightful comparison that weighs the advantages and disadvantages of both materials. It's the perfect guide to help you make an informed decision for your fashion endeavors.
Hemp Fabric Vs Linen: Pros And Cons
Hemp Fabric
Pros
Sustainability: Hemp grows quickly and requires less water, pesticides, and fertilizers compared to other crops, making it a more environmentally friendly option.
Durability: Hemp fibers are known for their strength and long-lasting properties, often outlasting other fabrics.
Biodegradable: Hemp fabric is fully biodegradable, making it a great option for those concerned about the environment.
UV Resistant: It naturally protects against UV rays, making hemp clothing suitable for outdoor wear.
Thermal Regulation: Hemp fabric breathes well and naturally regulates heat, making it comfortable to wear in various weather conditions.
Cons
Limited Availability: It can be harder to find in stores, and the variety of styles and colors may be limited.
Rough Texture: Initially, it can be rougher on the skin, although it softens over time and with washing.
Cost: Hemp clothing tends to be more expensive compared to more conventional fabrics.
Shrinkage: It may shrink if not properly cared for, especially when exposed to high heat in drying.
Color Fade: Natural dyes on hemp may fade over time, requiring special care to maintain the color.
Linen Fabric
Pros
Breathability: Linen fabric offers excellent breathability, making it ideal for summer or hot climates.
Natural Feel: With a unique texture, linen gives clothing a natural and luxurious feel.
Moisture-Wicking: Linen can absorb and wick moisture away from the body, keeping you dry and comfortable.
Antibacterial Properties: It has natural antibacterial and hypoallergenic qualities, good for sensitive skin.
Eco-friendly: Similar to hemp, linen is made from flax plant fibers, which require less water and chemicals than cotton.
Cons
Wrinkling: Linen wrinkles easily, which might be considered a drawback for those looking for a crisp appearance.
Stiffness: It may feel stiff and coarse initially but gets softer with wear and wash.
Care Requirements: Linen requires specific care in washing and drying to maintain its quality and appearance.
Price: Quality linen products can be expensive, especially when compared to synthetic alternatives.
Less Durable than Hemp: While linen is a strong fabric, it may not be as durable as hemp, especially with frequent washing.
In summary, both hemp and linen have their unique attributes that cater to different needs and preferences. Hemp's sustainability and durability may be particularly attractive to eco-conscious consumers, while linen's breathability and elegant feel might appeal to those looking for luxurious comfort. Both fabrics present more eco-friendly alternatives to traditional materials like cotton, but they also have unique care requirements and costs that may influence a buyer's choice.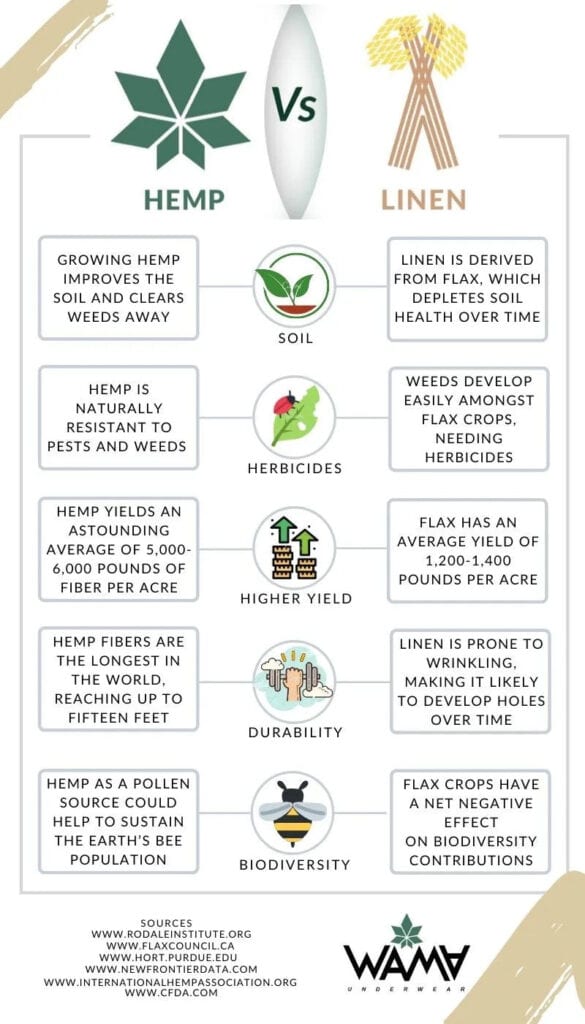 This image is property of cdn.shopify.com.
Hemp Fabric
Hemp fabric is sourced from the Cannabis Sativa plant, which is not only versatile but also incredibly durable. Let's delve into the characteristics that make this fabric a prime choice for people who are conscious about their environmental impact.
Durability
One of the most striking qualities about hemp fabric is its durability. It's one of the strongest natural fibers available, making it incredibly robust and long-lasting. This means that your hemp clothing items or home textiles can often outlive similar items made from different materials.
Environmental Impact
When it comes to environmental impact, hemp fabric is a superstar. The hemp plant requires little water and minimal care to grow. Plus, it gobbles up carbon dioxide from the atmosphere, making it a carbon-negative material! It can be grown without the use of pesticides or fertilizers, making it a great choice for those who care about the planet.
Breathability
Hemp fabric is also known for its breathability. The way the fibers are woven allows air to flow freely, keeping you cool in the summer and warm in the winter. This breathability can also prevent the growth of bacteria and fungi that thrive in damp, warm environments.
Antibacterial Properties
Did you know that hemp fabric possesses antibacterial properties? That's right. This natural fabric inhibits the growth of bacteria, thereby keeping your garments fresher for longer, and this means less washing needed, conserving water in the long run.
UV Resistance
Hemp fabric is renowned for its resistance to harmful UV rays, protecting your skin while you bask in the sun. Because of this feature, hemp is often used in outdoor clothing and for making sun hats or other shielding apparel.
Versatility
Hemp fabric's versatility is impressive. It can be used to make everything from jeans, jackets, and shirts to bags, rugs, and even paper. Its robust nature, combined with its breathability and UV resistance, makes it suitable for a diverse range of uses.
Price
While hemp fabric is more expensive than some mainstream materials like cotton, its durability and longevity justify the higher price tag. Clothes made from hemp fabric are often considered an investment, as they last much longer than cotton garments.
Comfort
What good would all these benefits be if hemp fabric weren't comfortable? Luckily, it is. Hemp fibers become softer with each wash yet retain their shape, offering a comfortable fit that improves over time.
Moisture Absorption
Hemp fabric is excellent at absorbing moisture, quickly wicking it away from your skin to keep you dry. Ideal for workout clothing or humid climates.
Pesticide Residue
Since hemp can be grown without the use of pesticides, there is no risk of harmful pesticide residues in the fabric. This makes it a safer choice for you and the environment.
Linen
Linen is another tough, versatile natural fabric, sourced from the flax plant. It's famed for its lightness and breathability, making it a popular fabric for use in the warmer months.
Durability
Like hemp, linen is an incredibly durable fabric, known for its long lifespan. Clothing made from linen can withstand a lot of wear and tear, which is why this fabric has been in use for thousands of years.
Environmental Impact
When it comes to environmental impact, linen is also a very commendable choice. The flax plant requires less water and fewer pesticides to grow than cotton, making it a more sustainable choice.
Breathability
Breathability is without a doubt one of linen's standout properties. This fabric is light and lets the air pass through, keeping one cool throughout the summer months.
Antibacterial Properties
Just like hemp, linen also boasts antibacterial properties. The fabric can help inhibit the growth of bacteria and fungi, contributing to a healthier living environment and less frequent laundering.
UV Resistance
Linen provides natural protection against UV radiation, making it a good choice for summer wardrobe items such as hats and light cover-ups.
Versatility
Despite its lightness, linen is surprisingly versatile. Beyond summer clothing items, linen is commonly used for beddings, tablecloths, and even period clothing due to its classic appeal and comfort.
Price
While linen is a bit pricier than other fabrics, it's often seen as a worthwhile investment thanks to its longevity, breathability, and comfort.
Comfort
Linen tends to feel cool to the touch, and its loose weave allows for maximum breathability, providing ultimate comfort especially in warm weather. This, combined with the fact it becomes softer with every wash, makes linen an adored fabric among many.
Moisture Absorption
Linen's moisture-wicking properties make it a great option for humid climates or during particularly sweaty workouts. Linen can absorb up to 20% of its dry weight in water before it starts to feel damp.
Wrinkling
One disadvantage of linen is that it is prone to wrinkling. Although some consider the creased aesthetic to be part of linen's laid-back charm, it might be inconvenient for certain uses where a crisp look is required.
Durability
Hemp Fabric
As we've mentioned before, hemp fabric is incredibly durable. It can comfortably survive washes and heavy usage without breaking down or losing its shape. This is what makes hemp such a fantastic choice for everyday clothing items, as well as heavy-duty uses like canvas and upholstery.
Linen
Linen is equally praised for its durability. It's known to get stronger when wet, unlike many other fabrics. This resilience makes it a great candidate for things like heavy-duty bags and upholstery, as well as rough-and-tumble items like children's clothing.
Environmental Impact
Hemp Fabric
Hemp's environmental footprint is minimal. Growing hemp improves soil health, requires minimal water and no use of harmful pesticides. Its crops grow densely, leaving no room for weeds to spring, eliminating the need for herbicides.
Linen
While not quite as environmental-friendly as hemp, linen is still an eco-conscious choice. The flax plant is resilient and can grow in poor-quality soil, requiring less water than cotton. The whole plant can be used, limiting waste.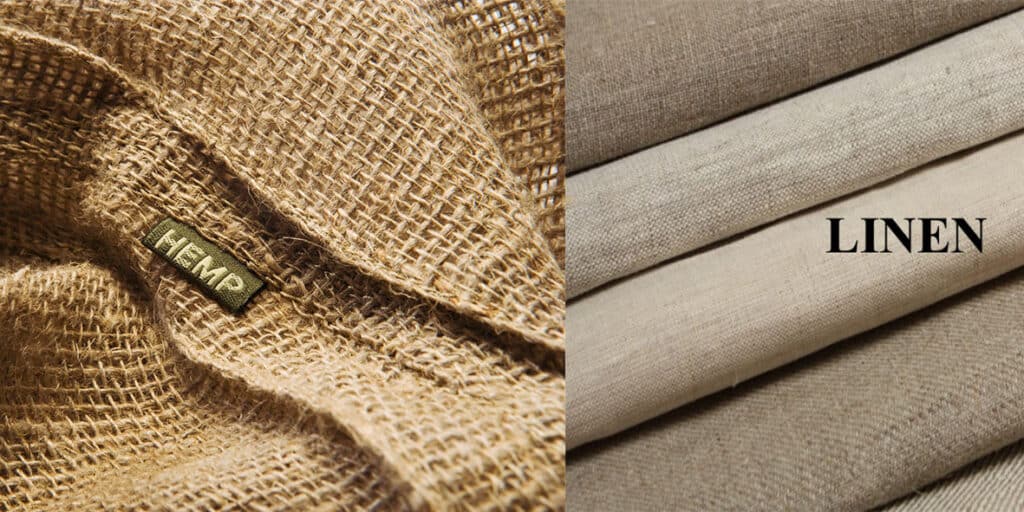 This image is property of deionescu.com.
Breathability
Hemp Fabric
Hemp fabric's breathability is one of its main strengths. It allows the flow of air, which not only cools you in hot weather but also provides insulation in colder weather.
Linen
Linen is unmatched in breathability. Its ability to allow air to circulate freely makes it a perfect choice for summer clothing, bedding, and curtains.
Antibacterial Properties
Hemp Fabric
As discussed, hemp fabric possesses natural antibacterial properties, reducing odors and keeping the fabric fresher for longer.
Linen
Like hemp, linen also has antimicrobial properties, contributing to hygiene and reducing the need for frequent washes.

This image is property of econosa.com.
UV Resistance
Hemp Fabric
One of the defining aspects of hemp fabric is its ability to resist UV rays. This makes it excellent for producing sun-protective clothing.
Linen
Linen too provides some degree of UV protection, making it a good fabric for summer garments.
Versatility
Hemp Fabric
Hemp fabric's rugged nature combined with its versatility means it can be used to make a wide variety of clothing and homeware products.
Linen
Though it's known best for its use in clothing, linen's versatility extends to a range of household items, including bedding, tablecloths, and napkins.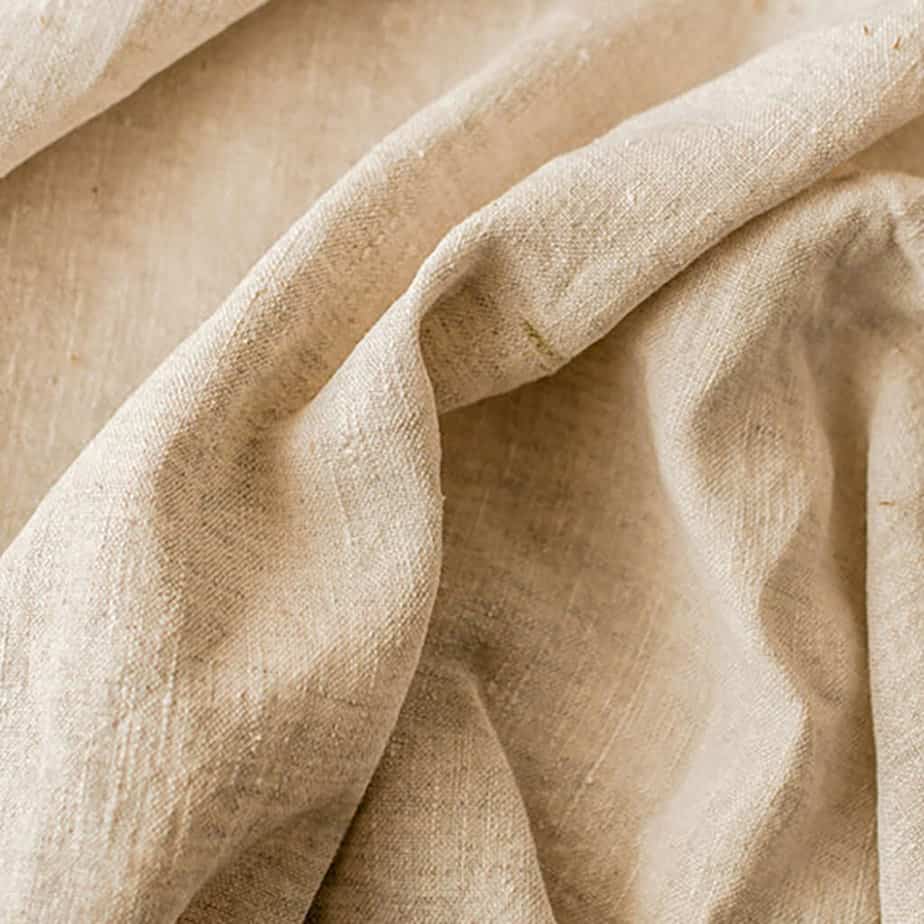 This image is property of cdn.shopifycdn.net.
Price
Hemp Fabric
Despite its slightly higher cost, hemp fabric is often seen as an investment due to its long-lasting nature.
Linen
In terms of price, linen is also towards the higher end. But like hemp, its quality, durability, and comfort usually offset the initial investment.
Wrinkling
Linen
One downside of linen is that it tends to wrinkle easily, which may require more maintenance, like ironing. However, some people appreciate this quality as part of linen's relaxed appeal.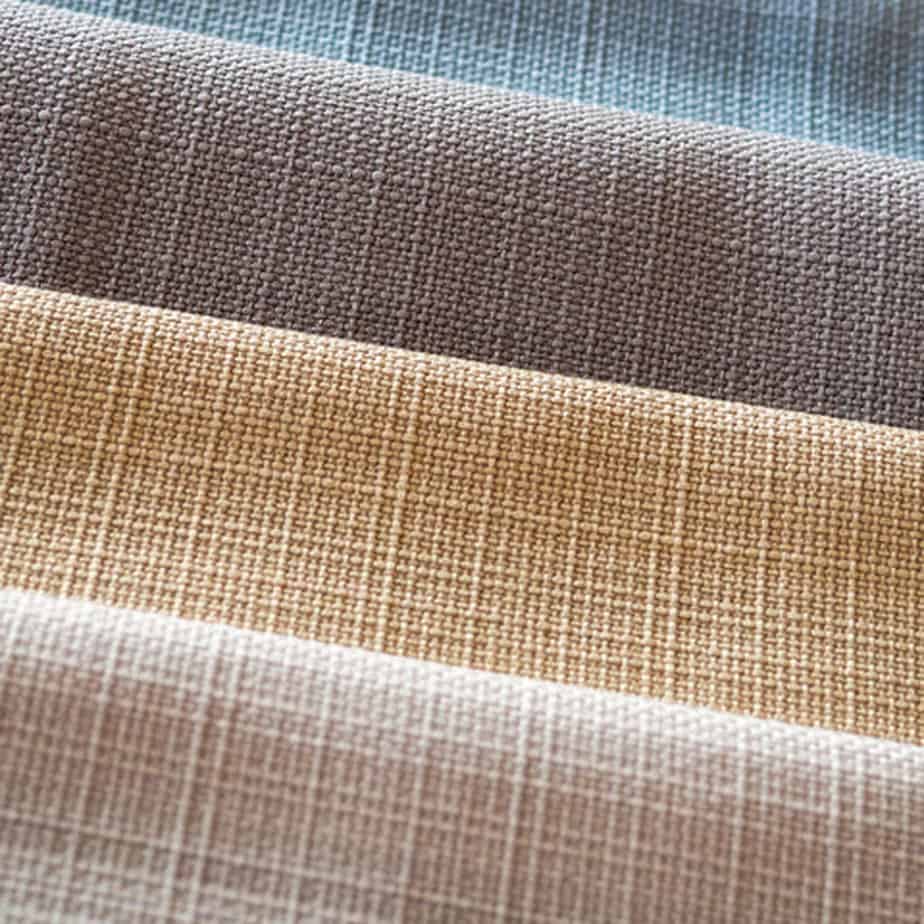 Recent Posts
link to How Bubble Hash Is Rated (1 To 6 Scale)
Discover how bubble hash is rated on a 1 to 6 scale. From texture and color to aroma and potency, learn the key factors that determine the quality of bubble hash. Whether you're a seasoned cannabis...
link to What Is The Most Popular Style Of Hash?
Looking to learn about the most popular style of hash? This article explores the different types, from traditional to bubble hash, and reveals the people's favorite. Join us on a journey through the...